Last Saturday (31st of October) marked the final day of Black History Month 2020.
This year, the month has special significance considering the trials and tribulations 2020 has brought upon the world. Our society is subject to ingrained institutionalised racism, shown through the lack of representation of Black individuals in positions of power and influence.
At tomato pay, we care deeply about how society treats those judged unfairly, and who do not have the tools to succeed in life because of government policy, and unconscious and conscious biases ingrained in businesses and people. We also believe in supporting small businesses and sole traders during these difficult times, including Black-owned businesses who felt a hard economic hit stemming from covid, compared to their White counterparts.
The month is a powerful reminder to remember history's actions towards the African diaspora and ensure we only move forward, not back.
We are honoured that we got to speak to Hannah Ngakane, Strategic Partnership Manager at Pinterest about how they're helping Black-owned small businesses, and how Pinterest joined in with the Black History Month celebrations this year.
How did Black History Month originate?
Celebrated annually in October in the UK, Ireland and the Netherlands, and in February in the US and Canada, the precursor of Black history is the historian Godwin Woodson.
Woodson launched a Black History initiative in the second week of February at the same time as the birthday of Abraham Lincoln and abolitionist leader Federick Douglass. The main idea behind the creation of the awareness week was in Woodson's opinion, to educate people about black history and its place within society. After four decades of Black History Week, it evolved into a whole month and was held for the first time in 1970 at Kent State University.
Black History Month under Covid
In light of the recent pandemic, the usual public celebrations had to be adapted. Many companies found great solutions, such as online events, virtual exhibitions and webinars.
At tomato pay, the business itself walks a fine line between technology and finance. We love and appreciate what other great consumer-focused, tech companies are doing to help support small businesses and sole traders.
Pinterest is a great example of a content-driven, technological solution for small businesses and sole traders to promote their goods and services. The company has created the first-ever online speaking event 'Black Gold' as well as a virtual exhibition from multidisciplinary Black artists. Furthermore, the Pinterest team showcased content on their website featuring shopping spotlights to advocate Black-owned businesses.
Q. We loved seeing everything Pinterest did for Black History Month from speaking events to an art exhibition, what motivated you to do such extensive coverage of BHM this year?
Pinterest's mission is to bring everyone the inspiration to create a life they love, so we wanted to shine a spotlight on Black-owned businesses, Black creators and Black culture to enhance the inspiration available to our Pinners during Black History Month. We wanted to make it easily accessible to everyone, to shout loudly and proudly about the incredible achievements amongst the Black community and use our platform to inspire our Pinners.
Q. Why do you think it is so important for businesses to play a part in representing Black history and utilising their reach to amplify the voices of the Black community?
This year in particular has been a pivotal moment for the Black Lives Matter movement. The outcome of businesses proactively engaging in this conversation is to take the wisdom from Black history and alchemise it into understanding, empathy and a more meaningful connection for the present and future. Businesses and individuals seeking to serve inclusive audiences have a responsibility to use their voices to be actively anti-racist. Our efforts with Black Gold aim to rise to this challenge.
Q. How has been the response of the public?
Absolutely fantastic, we are overwhelmed with the engagement, the positive support, the number of incredible Black-owned businesses and Black creators, role models and allies that have partnered with us to make this a success. The Black-owned shop on Pinterest is our highest performing shopping spotlight across the UK and we are now working with more incredible partners to ensure the celebration of the Black community can be sustainable across Pinterest moving forward.
Q. How do we ensure that the dialogue that has opened up right now transforms into sustained change?
We believe it's key to think about the sustainable changes you can maintain as a business or individual whether that is to shop Black-owned businesses, follow Black creators, read further resources to diversify our thoughts. Here at Pinterest, we'll continue to showcase inspirational content from the Black community and use our platform to further educate and inspire our Pinners on actions they can take to become allies and support the Black community sustainably.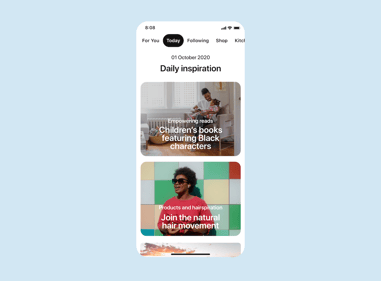 The year 2020
This year, it was important to commemorate and celebrate Black history. 2020 has been an extremely hard year for the Black community globally. The Black Lives Matter Movement, the disproportionate impact of Covid-19 on the Black, Asian, Minority Ethnic (BAME) community and the economic impact on Black-owned businesses have affected the physical and mental welfare of Black individuals deeply.
We must make every effort to support Black-owned businesses. Black Pound Day found out that Black and minority ethnic people still face tenacious economic inequality. There is still a £3.2 billion pay gap in the UK, and to every pound a white household makes, Black Caribbeans earn 20p, whilst Black Africans earn 10p.
Furthermore, UK businesses led by ethnic minorities have been particularly exposed to Covid-19. They still face difficulties accessing loans and overdrafts and Sifted found that under 1% of venture capital investment in the UK went to Black entrepreneurs across the last 10 years.
This is why we all need to do our part in helping the Black community. There are many ways to do this - whether it's speaking up against racism, and supporting Black-owned businesses, or checking out our resources list on how to support the Black Lives Matters movement (which you can find here), every little bit helps.