The team at tomato pay (formerly known as Fractal) are all here to work towards one mission - to make a positive, global impact by creating a new, inclusive, financial ecosystem.
To mark the end of a very successful quarter (you can see our highlights here, here and here), the Fractal product team held an internal hackathon to see what could be built in a few hours from our Developer APIs (currently in early-BETA).
There were four teams consisting of people across all departments - engineering, product, business and QA.
Everyone had the freedom to create whatever they liked using the aforementioned APIs, and the outcome was better than anything our prestigious panel of judges could have expected.
First up, Banking Buddy.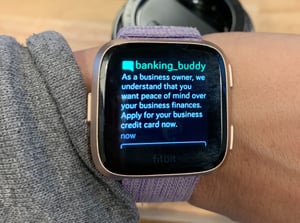 Banking Buddy recommends the best banking products, at the right time, through the appropriate channel for the customer.
A simple prototype of the recommender system for banking products was created.
By taking into consideration a product's Trustpilot ratings and the historical data of the customer looking for a financial product, Banking Buddy uses a simple nudging mechanism which sends alerts to the SMS via a Telegram application.
If the business is running out of funds and the system recognises that there is a regular payment of wages leaving the business account in the near future, the small business will receive a notification in the form of an actionable-insight stating, "Apply for a short-term loan to cover a shortfall in cash".
tomato pay (formerly Fractal) Head of Data Science, Andrea Karlova said: "The main motivation of our group was that we were eager to explore the possibilities of building on the existing Fractal APIs, and combine it with machine learning tools and other third-party APIs".
Fractal 360
Fractal 360 is a one-stop shop for revenue collection, and functions as a financing tool for small businesses.
Fractal 360 gives a small business owner insights on their collections and invoicing by showing them (1) a unified financial profile (company, banking and accounting data and a credit risk rating), (2) outstanding revenue and financing options delivered in context and (3) the option to repay these invoices automatically.
Julia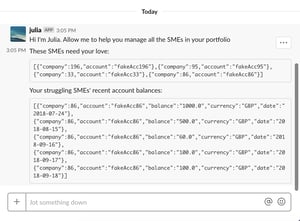 Julia is a relationship manager's automated assistant which can be delivered to any tool via APIs and Software Development Kits (SDKs).
Using custom-built SDKs on top of the Fractal APIs, Julia can be integrated into any tool a bank relationship manager (RM) would use day-to-day. For example, Slack or Salesforce. Julia delivers insights to small businesses through these tools, and alerts the RM of any high-priority actions needed to help the small businesses in their portfolio.
And the winner of the first internal Fractal hackathon is ...
Iron Bank
Iron Bank is a Game of Thrones-themed Alexa skill - a voice-driven Fractal bot for small businesses to help them manage their finances.
Product Manager, Yas Rostom said: "We played with the idea of what it means for an old established (297 AC) bank to use Fractal's APIs. This gave birth to Iron Bank 2.0 and resulted in a voice assistant that helped businesses manage their finances".
From checking your balance and making it as simple as "Alexa, what's my balance" , to "Alexa, what payments are due tomorrow". The winning result was a beautifully crafted demo showcasing what's possible to create through Fractal's APIs to help alleviate challenges financial institutions have with their small business customers.